Villa del Palmar Flamingos Beach Resort & Spa
Villa del Palmar Flamingos Beach Resort and Spa is the jewel of Nuevo Vallarta, Mexico. Located only 15-20 minutes from the Puerto Vallarta airport, this 5-Star beach resort offers world-class amenities and plenty of space to enjoy your family and friends. Relax at the resort's multi-level swimming pool area surrounded by shady palm trees. Enjoy the incredible ocean views in luxurious accommodations. It's the perfect location for your next vacation.
SUMMER SPECIAL: $99 per night*
Don't pay more than you need to! We offer the exact same suites you will find on Expedia and all the other online sites but at a fraction of their price. We're timeshare owners renting our unused time to the general public at huge discounts. You will NEVER be required to take a timeshare presentation or tour when booking with us. Just relax and enjoy your stay and revel in the fact that you save hundreds and sometimes thousand of dollars by booking with us.
"Are you kidding me! I saved over $2,500 for the same suites that I nearly booked online on another site. Same exact condos for a fraction of their "discounted" prices by booking through you. Unbelievable! We had a fantastic time and all the money we saved by booking through you paid for our water activities plus meals at the great restaurants you recommended. Can't thank you enough"


Mike S. Chicago, IL
Have you ever paid $800 for an airline seat and found out the guy next to you paid $199. Why on earth would anyone want to pay more than they needed to for the exact same accommodations? Well now you don't have to. Villa Del Palmar Flamingos is a timeshare resort. There is no "hotel section". Every room, suite, penthouse, condo, villa (whatever you find it called) is shared between timeshare owners and all the online bookings engines. This site, however, is exclusively dedicated to offering the unoccupied timeshare availability to the general public at huge discounts...rates you won't find anywhere else. There is no 'catch". You check in just like the guy next to you who paid a lot more. As our guest, you are under no obligation to do anything other than relax, enjoy and SAVE. Same exact suites…way better price.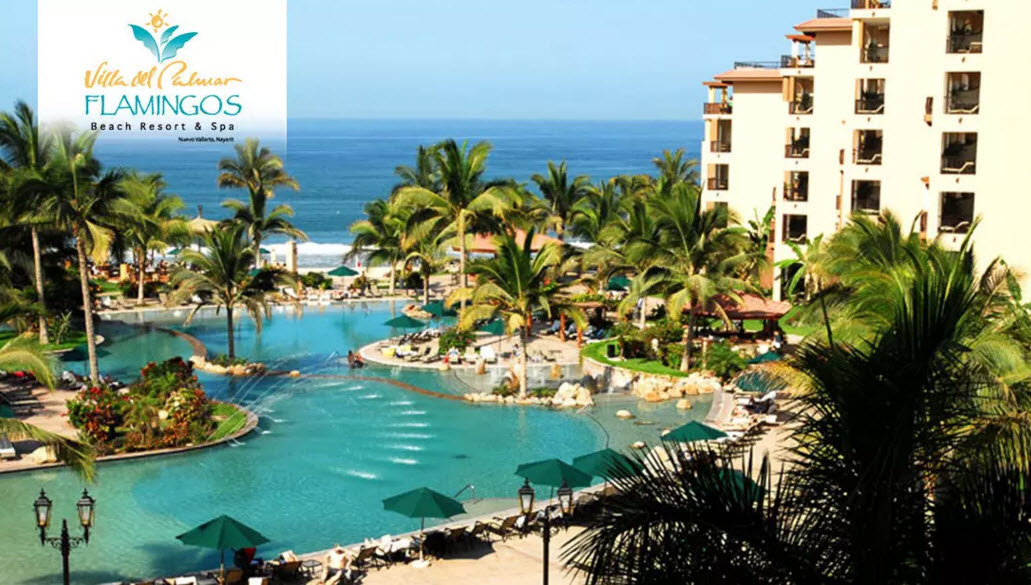 Beautiful pools with ocean views at Villa del Palmar Flamingos
This fabulous resort offers luxury accommodations with air conditioning, private terraces, and fully equipped kitchens. All units boast spectacular ocean views of the Pacific. Resort amenities include a lagoon style, multi-level pool, a beautiful Spa facility, outdoor Jacuzzi, non-motorized water sports, activities, indoor and outdoor massage services, on-site supermarket and internet cafe, concierge, free parking and room service. There are several dining options available including an oceanfront restaurant and the Pizza Bar - a snack bar serving the beach and pool areas.
Luxury Accommodations
The spacious accommodations at Villa del Palmar Flamingos include Deluxe (Large) Studio Suites One, Two and Three Bedroom Suites. All suites are fully furnished and include daily maid service. Each suite is characterized by stylish Mexican decor, marble baths, large private balconies, and high-quality appliances. They have fully equipped kitchens and flat-screen satellite TV's. For a more complete description of the resort suites, see Villa del Palmar Flamingos Suites.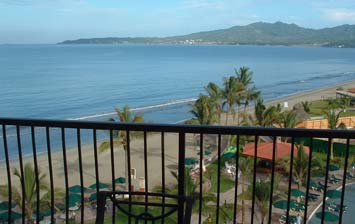 Every Flamingos suite has a private balcony
World-class Resort Amenities
Relax on Nuevo Vallarta's white sandy beach, swim in the multi-level pools or participate in the many activities available. The multi-level pools are unique with water flowing over the edges which creates a stunning negative-edge effect. The freshwater falls which join several pools are a focal point of the resort. Enjoy numerous fun-filled activities - golf, fishing, and water sports like jet skiing, parasailing, boat tours and more. For a more detailed description, see Villa del Palmar Flamingos Resort Amenities.
More Beach Resorts
A new 5-Star up-scale beach resort in Cabo San Lucas is Villa del Arco. The resort has been designed as a family-oriented beach resort. For more information about this beach resort, please click here on Villa del Arco.
The sister resort to Villa del Arco is almost next-door and also on El Médano Beach in Cabo San Lucas. For more information about this beach resort, please click here on Villa del Palmar Cabo.
Contact Us for More Information
The modern comforts of a deluxe beach-front resort with the Old World Mexican charm of the area make this resort the ideal place for your next vacation experience. Please contact us for more information. We offer the best in discount timeshare rentals at Villa del Palmar Flamingos Beach Resort and Spa.
Directory for Villa del Palmar Flamingos Information
Click on Site Map for a directory of the information contained in this website. You'll find valuable information for the Villa del Palmar Flamingos resort and the Puerto Vallarta area as well.
*Rate based on Deluxe Studio minimum 3 night rental subject to availability.